Pruned: 7/15/13
- SS
The game on the 15th has been changed to a practice round so the other plan is shelved for next week.
I'm assuming the pilots below will be available.
SE5a

Red Flight
Rooster
Hawg
Skeeter
Bandy

Blue Flight
Navy Jake
Shnoze Shmon
Duff4r
WingWalker

One WW needs to join Blue Flight the other four make up Yellow Flight.  I'll let yall decide.
WWDubya
WWSitting Duck
WWBayonet
WWFlybert
WWWhiteAce


Brisfits

Green Flight
Space
Stubby
Lexx
Zed
HammerHead
WWBlindfaith
WWGeezer
Plan map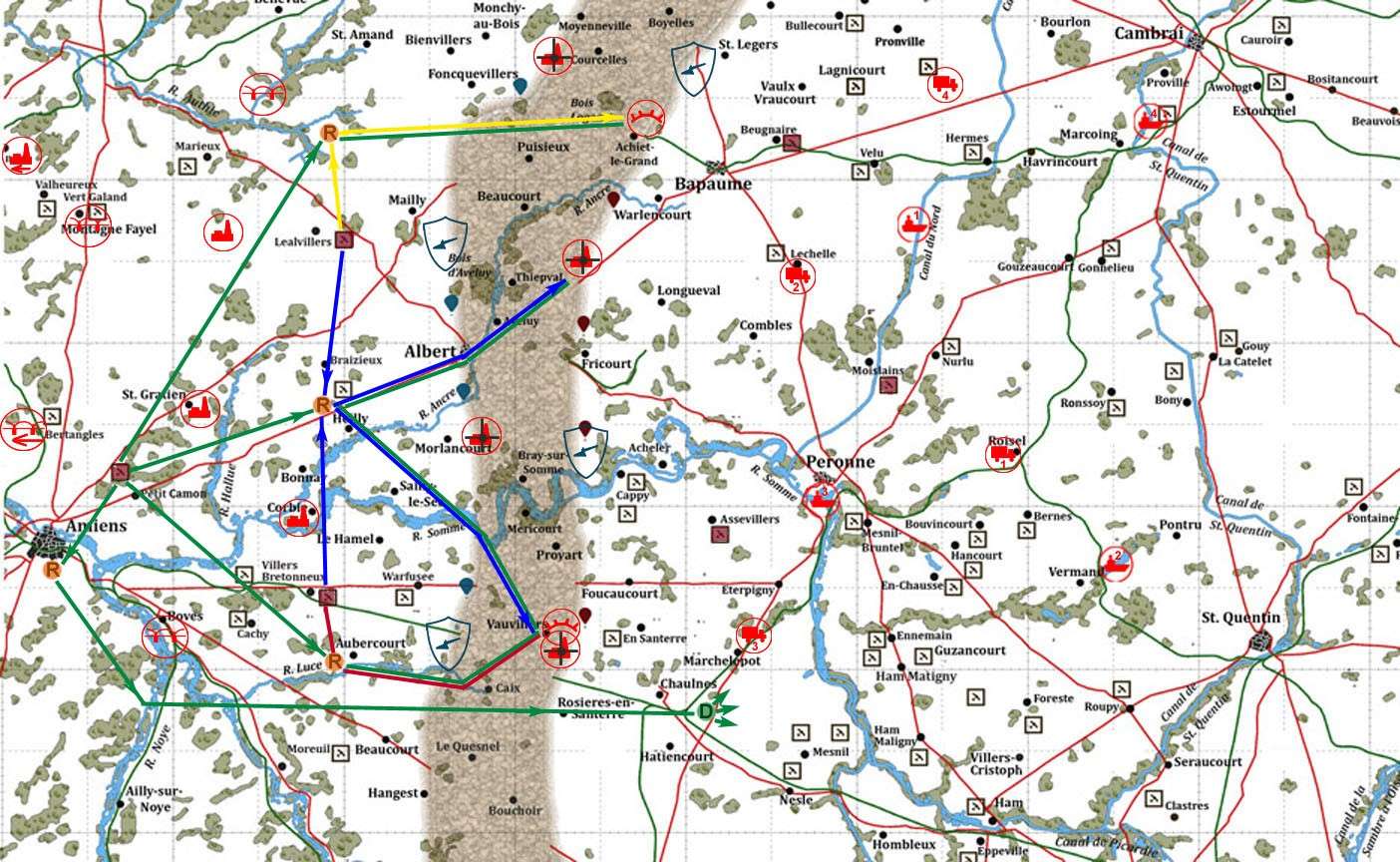 " />
All aircraft will proceed to their assigned rally points, group up in assigned flights, and climb to a minimum of 10,000' before proceeding.
All aircraft shall start with 70% fuel.
With the exception of the initial deep pen flight no Bristols shall cross into enemy territory without a minimum of 4 SE5s escorting.
Initial plane assignments for Green Flight
Space - recon (bombs your choice)
Lexx - bomber
HammerHead - bomber
WWBlindfaith - bomber
Stubby - Arty spotting (no bombs)
WWGeezer -
trench mapping north (no bombs)
Get a bomber and join the group lead by Space.
Zed - trench mapping
south
(no bombs)  
If the north trench is active rally with Yellow, if south active rally with Red
.Will be determined in STAR briefing before the game.
The recon and bombers will use the rally point south of Amiens.  Continue to climb to the dispersal point behind enemy lines.  This should ensure safe passage.  At this point how you proceed will be determined largely on active targets.  Space will decide how you will be deployed from that point.
The Arty spotting group path will be determined by which target is active at the start of the game.  They will first proceed to the target as indicated while gaining altitude.
Procedure for Arty spotting and trench mapping groups.
Red and Yellow flights see change note at bottom of post

From the rally points continue climbing to target locations.
If no enemy contact dispatch 1 SE5 to operation altitude to check for enemy. (Arty 2,500' to 4,100') (Trench 5,000' to 8,200')
If still no enemy contact conduct assigned mission.
If more than two enemy are spotted the whole group shall break off and return to their rally point.
If you encounter 1 or 2 enemy planes the flight lead may choose to engage in an effort to drive off or destroy providing that an altitude advantage exists, and the Bristol is not threatened.
Always attack with twice the number of SE5s.
If the flight becomes disadvantaged by altitude, or more than 2 enemy enter the engagement, the whole group shall break off and return to their rally point.
If the enemy at any time begins to become a threat to the Bristol the whole group shall break off and return to their rally point.
Once the group has returned to the rally point they will proceed as before.
Once the trench mapping is complete the SE5s shall escort the Bristol to a safe landing.  Once the Bristol has a screenshot of the mission success the Bristol shall takeoff and rejoin the SE5s.
A group that finishes it's mission shall assist either of the other two in completing theirs.  The free Bristol acting as close escort to the one on mission.
When all three missions are complete.  (Or the specific Bristol required is no longer available.)  Than if targets are still left behind enemy lines any remaining Bristols may be bombed up and launched with at least a minimum escort.  Ingress at flight leads discretion.
Otherwise find and CAP 1 or 2 of our active targets with remaining aircraft.
Change notes:
Either Red or Yellow will not have an escort mission at the beginning of the game.  Will be determined in STAR briefing before the game.
Follow the original plan to the target area as though you did.
Proceed to attack balloons using the previously stated procedure until one of the other two flights has to return to it's rally point.  Then join that flight just as if your original mission were complete.
Hopefully this will mean both targets will be taken down much sooner and assistance can be given to Space's group early in the game.